Meet Our Team Of Experienced Dog Trainers
Sonny Madsen – Owner/Master Dog Trainer
Madsen is a master certified dog trainer and owner-operator of our Sit Means Sit Dog Training of Northern Virginia franchise. She is also the founder/president of K-9 Caring Angels Therapy and Service Dogs. An award-winning manager and public speaker with an emphasis on sales, training and motivation, she has always felt an internal drive to help people improve their lives.
Madsen started her business in 2012, wherein just three short years, she grew from a start-up to a top 10 franchise out of 130 nationally, most recently achieving #3 in the nation for 2017. During that time, she also founded K-9 Caring Angels — a 501c3 dedicated to providing therapy and service dogs to the community, including our veterans and service personnel. In 2017, she placed the first full-time, live-in firehouse therapy dog with Fairfax County.
---
Ted Madsen – Owner/Master Dog Trainer
Madsen is a master trainer and co-owner/operator of Sit Means Dog Training. He is also vice president of K-9 Caring Angels Therapy and Service Dogs. Ted joined his wife Sonny in starting K-9 Caring Angels Therapy Dogs to give back to the community, and through the Warrior's Angels Service Dogs service, he strives to help our soldiers and veterans by donating psychiatric service dogs to those with challenges like PTSD.
Before becoming a dog trainer, Ted worked in the corporate world as an executive in the travel and tourism industry with Hilton, Wyndham and Resort Condominiums International (RCI). He was also a managing partner with Quintessential Consulting Group. It was in 2010 that Sonny came to Ted with the idea of starting a dog training business after meeting with the founder of Sit Means Sit, Fred Hassen, in Las Vegas, Nev. She thought Ted would think it was a crazy idea, but his support and her drive made it happen — the same is true for K-9 Caring Angels.
---
Samone Puffenbarger – Lead Dog Trainer
Samone Puffenbarger was promoted to Lead Trainer in June of 2020. She has been with us nearly since the start as a client, then trainer and office manager.  She has worked around all aspects of the business and is well loved by her clients and dogs alike!  She teaches several regular group classes, tricks classes and beginner agility classes. Samone is certified with AKC to perform S.T.A.R Puppy, CGC, CGCA and UCGC tests for the public.
"I love it when a client has one of those 'aha' moments with their dog and they have success with something that they have been working on for a little while. It feels great! I always tell my clients that baby steps are the way we get to great things, so don't get upset if things don't happen as quickly as you think it should. Every dog can succeed, we just need to be there to show them the way."
---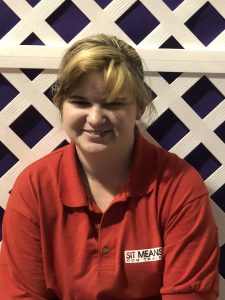 Olivia Cassandra – Dog Trainer
Olivia has been training for over 10 years now. She's trained obedience, tracking, Shutzhund, conformation, CGC prep and helped with training search and rescue and therapy dogs. Olivia studied under a number of dog trainers, handlers and behaviorist. She's worked using many different techniques in dog training for both clients and her own working dogs. She's shown and titled her dogs and worked for a top-quality German Shepherd Breeder, trainer and behaviorist, doing everything from simple kennel duties to breeding, whelping, temperament testing. There, she also trained puppies before they went to their forever families.
Olivia has taught dog obedience classes and has assisted with conformation show seminars. She went to Austria for a week to train with some top dog handlers there
Olivia has taught dog obedience classes and has assisted with conformation show seminars. She went to Austria for a week to train with some top dog handlers there.
"I keep a very holistic approach for my dogs. I enjoy reading behavior and training works by Jack Volhard and Patricia McConnell."
---
Angie Arce – Dog Trainer
Angie Arce has been a trainer with Sit Means Sit for 2 years. She started as a client with her Husky Spike. Prior to that she worked as a vet tech for 13 years. She loves helping problem dogs and working with rescue animals. "It's the best, because you're giving them a second chance in life". She has 3 dogs: Pitbulls Bat and Fancy, and her Morkie Sakara. She also loves her 3 cats Pinky, Brain and Wakko. "All of my animals are more than just my pets. They are my kids, and they all get spoiled". Angie also teaches group classes and is happy to help you with trimming your dog's nails.

---
Veronica Racey – Trainer
Veronica joined us in 2020 previously working in animal shelters assisting dogs with behavior and obedience in an effort to find them homes.  She got much of her training before coming to Sit Means Sit from her mother who was a worked as a dog trainer for many years.
---