Meet Our Team Of Experienced Dog Trainers
Sonny Madsen – Owner/Master Dog Trainer
Madsen is a master certified dog trainer and owner-operator of our Sit Means Sit Dog Training of Northern Virginia franchise. She is also the founder/president of K-9 Caring Angels Therapy and Service Dogs. An award-winning manager and public speaker with an emphasis on sales, training and motivation, she has always felt an internal drive to help people improve their lives.
Madsen started her business in 2012, wherein just three short years, she grew from a start-up to a top 10 franchise out of 130 nationally, most recently achieving #3 in the nation for 2017. During that time, she also founded K-9 Caring Angels — a 501c3 dedicated to providing therapy and service dogs to the community, including our veterans and service personnel. In 2017, she placed the first full-time, live-in firehouse therapy dog with Fairfax County.
---
Ted Madsen – Owner/Master Dog Trainer
Madsen is a master trainer and co-owner/operator of Sit Means Dog Training. He is also vice president of K-9 Caring Angels Therapy and Service Dogs. Ted joined his wife Sonny in starting K-9 Caring Angels Therapy Dogs to give back to the community, and through the Warrior's Angels Service Dogs service, he strives to help our soldiers and veterans by donating psychiatric service dogs to those with challenges like PTSD.
Before becoming a dog trainer, Ted worked in the corporate world as an executive in the travel and tourism industry with Hilton, Wyndham and Resort Condominiums International (RCI). He was also a managing partner with Quintessential Consulting Group. It was in 2010 that Sonny came to Ted with the idea of starting a dog training business after meeting with the founder of Sit Means Sit, Fred Hassen, in Las Vegas, Nev. She thought Ted would think it was a crazy idea, but his support and her drive made it happen — the same is true for K-9 Caring Angels.
---
Angela Moxley – Lead Dog Trainer
Moxley is a natural-born dog trainer who came to Northern Virginia by way of Wisconsin in 2015. Angela works as a professional dog trainer for Sit Means Sit dog training. There, she first trained her own dog, a small Shih Tzu named Avicci, for her daughter. After experiencing the pride of her own dog receiving the Canine Good Citizen Certification from the AKC, she joined the Caring Angel's therapy team. Using her dog to teach dog safety in elementary schools and making appearances in nursing homes and hospitals, Avicci's love spread happiness to everyone wherever she went — even other dogs can't resist her charm!
---
Joanna Thomas – Lead Dog Trainer
Thomas has had a passion for dogs since childhood, which led to her starting her career working in animal hospitals. There, she gained a lot of knowledge about the health and care of dogs. She has been a long-time handler for Virginia Search and Rescue and she has taken her training and handling skills to the next level with Sit Means Sit of Northern Virginia.
A goal of hers is to get involved with training and producing fully trained Diabetic Alert Dogs.
---
Samone Puffenbarger – Dog Trainer
Puffenbarger works double duty as both a dog trainer and as office manager. She teaches several regular group classes, tricks classes and beginner agility classes. Samone is certified with AKC to perform S.T.A.R Puppy, CGC, CGCA and UCGC tests for the public.
"I love it when a client has one of those 'aha' moments with their dog and they have success with something that they have been working on for a little while. It feels great! I always tell my clients that baby steps are the way we get to great things, so don't get upset if things don't happen as quickly as you think it should. Every dog can succeed, we just need to be there to show them the way."
Goals for the year:
Start training dogs a little more outside of group class.
Learn more about scent work.
Learn more about training a service dog.
Advance my knowledge about agility work.
---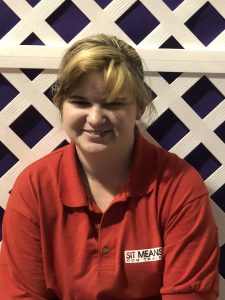 Olivia Cassandra – Dog Trainer
Olivia has been training for about eight years now. She's trained obedience, tracking, Shutzhund, conformation, CGC prep and helped with training search and rescue and therapy dogs. Olivia studied under a number of dog trainers, handlers and behaviorist. She's worked using many different techniques in dog training for both clients and her own working dogs. She's shown and titled her dogs and worked for a top-quality German Shepherd Breeder, trainer and behaviorist, doing everything from simple kennel duties to breeding, whelping, temperament testing. There, she also trained puppies before they went to their forever families.
Olivia has taught dog obedience classes and has assisted with conformation show seminars. She went to Austria for a week to train with some top dog handlers there.
"I keep a very holistic approach for my dogs. I enjoy reading behavior and training works by Jack Volhard and Patricia McConnell."
---
Angie Arce – Dog Trainer
One of our newest dog trainers, but not new to Sit Means Sit, Angie was previously a client for five years with 12 years of vet tech and grooming experience.
"I love working with rescues and helping any way that I can. My Morky, Husky and three cats are my world!"
---
Mickie Douglas – Dog Trainer
Mickie started training for Sit Means Sit in January 2013 at the SE Michigan location. She started as a client in Monroe Michigan in August of 2012. Mickie was impressed with the system and how fast she gained her dog's focus and obedience. Previous to becoming a client her dog used to run away in chance he got and would urinate in the home.
In 2017 she transferred to train with Sit Means Sit of Toledo, Ohio and eventually met Sonny when working to become a K-9 Caring Angels Evalulator. Mickie enjoyed working with Sonny and had already planned on moving south once her daughter graduated. She was interested in coming on board with Sit Means Sit NOVA and since Feb, 2019 has been a valuable addition to our training team. Her dog Zoro is a therapy dog with K-9 Caring Angels.
---
Miriam Carrera
Our newest addition to Sit Means Sit, Miriam is the smiling face and warm voice that greets anyone who comes or calls the office on weekdays of course. She is bi-lingual and is already making a positive impact on logistics and organization.